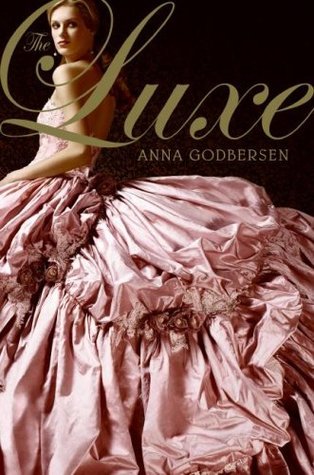 Title:
The Luxe (Luxe #1)
Author:
Anna Godbersen
Rating: 5 out of 5 stars
Release Date: November 20, 2007
Publisher: HarperCollins
Source: Audiobook
Narrator: Nina Siemaszko
Genre: Historical, Mystery, Young Adult
SUMMARY
:
Pretty girls in pretty dresses, partying until dawn.
Irresistible boys with mischievous smiles and dangerous intentions.
White lies, dark secrets, and scandalous hookups.
This is Manhattan, 1899.
Beautiful sisters Elizabeth and Diana Holland rule Manhattan's social scene. Or so it appears. When the girls discover their status among New York City's elite is far from secure, suddenly everyone from the backstabbing socialite Penelope Hayes, to the debonair bachelor Henry Schoonmaker, to the spiteful maid Lina Broud threatens Elizabeth's and Diana's golden future.
With the fate of the Hollands resting on her shoulders, Elizabeth must choose between family duty and true love. But when her carriage overturns near the East River, the girl whose glittering life lit up the city's gossip pages is swallowed by the rough current. As all of New York grieves, some begin to wonder whether life at the top proved too much for this ethereal beauty, or if, perhaps, someone wanted to see Manhattan's most celebrated daughter disappear...
In a world of luxury and deception, where appearance matters above everything and breaking the social code means running the risk of being ostracized forever, five teenagers lead dangerously scandalous lives. This thrilling trip to the age of innocence is anything but innocent.
REVIEW
:
A dramatic glimpse at the glamorous--and not-so-glamorous--lives of New York socialites in 1900.
THE LUXE begins at the funeral of beloved upper class gem, Elizabeth Holland. As we survey the varying shades of "grief" displayed by those in Elizabeth's social circle, it becomes evident that her death may have been more than just a tragic accident. The novel quickly escalates into a provocative whodunnit as devious intentions unfurl and the plot thickens with greed, envy, revenge, and--possibly the most dangerous motive of all--unrequited love.
Deft plotting and colorful characterization will leave the reader begging for more. Recommend for fans of Gossip Girl, Agatha Christie, or anyone looking to add a little intrigue and scandal to their reading repertoire.
Nina Siemaszko nails her performance as narrator, highlighting the eccentric nature of every character in this novel.
CONTENT

:



Profanity:
None
Sensuality:
Mild-Moderate (Kissing, suggested sexuality, lust, infidelity)
Violence:
Mild (Murder or suicide implied, physical displays of rage toward inanimate objects)
Drugs/Alcohol: Mild (Effects of alcoholism depicted negatively)
This review also appears on Goodreads.